---
---
The Lumenier 20A OPTO Little BLHeli ESC (also known as the Little Bee) is a top performing electronic speed controller with fast MOSFET driven, dedicated driver chips on a quality PCB. This gives superior braking performance. The motor braking is exceptionally fast thanks to the Silabs processor along with high quality gate drivers. This ESC is OPTO with no onboard voltage regulator, so you will need another 5V source (like a PDB with a voltage transformer) to power your flight controller.
The Lumenier Little BLHeli is signal wire programmable with an Arduino Nano v3 board, or other Silab programmers that are compatible with the BLHeli bootloader.
Pre-flashed with the settings below.
Oneshot / Active Braking (dampened light mode) enabled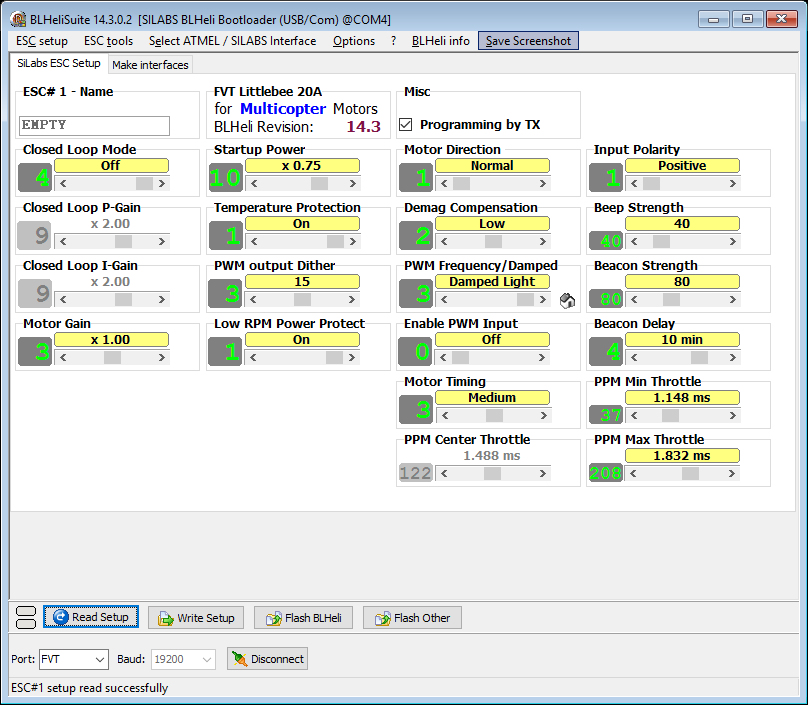 Specs:
Input: 2-4s Lipo
Constant: 20 Amps
Burst: 30 Amps
Weight: 6g w/wires
Dimensions: 23x12.5x3mm
Motor wire: 70mm
Signal wire: 100mm
MCU: Silabs
PCB - 4 Layer Blind Pole PCB - 3oz Pour
Mosfet: N-Channel
BEC: None
As with all ESCs that have active braking we recommend you isolate or filter all sensitive electronics to prevent feedback/spikes.
---